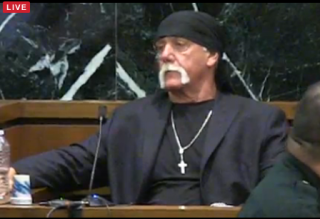 Add Gawker to the list of opponents who have fallen before "The Immortal" Hulk Hogan. The wrestling superstar, whose real name is Terry Bollea, was victorious in the trial over his sex tape that the site posted without his permission. The jury awarded Hogan a whopping $115 million in total damages — $55 million in economic injuries and $60 million for emotional distress.  Punitive damages, which could be even a higher amount, are still to be determined. Hogan broke down in tears after the verdict was read.
Gawker put up a good fight, I'll say that much. They tried to argue that Hogan forfeited his right to privacy by being a public figure. They tried to convince the jury that Hogan wasn't even upset about the tape, pointing to instances where he was a good sport about it in interviews. But in the end, it just wasn't enough to put the former WWE champion down for the count.
This was a trial for the ages, with some really weird moments. We had Hogan discussing the blurred line between his wrestling character Hulk and Terry the person, including apparently different penis sizes. We also had Gawker founder Nick Denton delivering a tender reading of the site's commentary on the sex tape.
Most important, however, was that a jury decided that when it comes to privacy, there are some things that should apply to everyone, no matter how famous they are. They believed that what two people do behind closed doors is not for some website to show the world, just because one of them is famous.
UPDATE 7:15 p.m. A representative from Gawker sent this statement on behalf of Gawker founder Nick Denton:
"Given key evidence and the most important witness were both improperly withheld from this jury, we all knew the appeals court will need to resolve the case. I want to thank our lawyers for their outstanding work and am confident that we would have prevailed at trial if we had been allowed to present the full case to the jury. That's why we feel very positive about the appeal that we have already begun preparing, as we expect to win this case ultimately."
Have a tip we should know? [email protected]