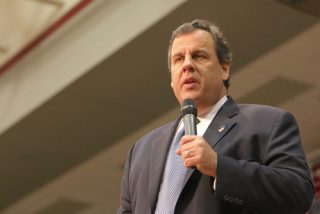 On Friday morning, a jury reached a verdict in the criminal case against Bill Baroni and Bridget Anne Kelly, former aides of New Jersey Governor Chris Christe, for their role in causing traffic problems by closing lanes on the George Washington Bridge as revenge against a local mayor. The lane closures were supposedly done in retaliation, after Fort Lee Mayor Mark Sokolich took back his support of Christie during his campaign. The jury found Baroni and Kelly guilty on all counts for their roles in the scandal, commonly known as 'Bridgegate.' They were charged, and ultimately convicted, for intentionally misapplying Port Authority resources, which is a crime under a New Jersey fraud statute.
Baroni & Kelly guilty on all counts #Bridgegate

— NJ US Attorney (@USAO_NJ) November 4, 2016
Kelly and Baroni both testified during the 7-week-trial, in addition to 33 other witnesses. Kelly claimed she had no idea the lane closures were part of any nefarious plot, despite admittedly deleting messages that might have been viewed as incriminating. Baroni was questioned about ignoring messages from Mayor Sokolich after the lane closure, and said that he was instructed by co-conspirator David Wildstein to maintain "radio silence." Baroni said, regarding why he listened to Wildstein, "I've asked myself that a thousand times."
Wildstein previously pleaded guilty and agreed to cooperate with prosecutors against Kelly and Baroni, in exchange for not having to serve time in prison. He ended up being a key witness, admitting to being the mastermind behind the plot. He said that in September 2013, he ordered the lane closures without giving a heads up to officials or commuters, after receiving an email from Kelly the month before that said, "time for some traffic problems in Fort Lee." Wildstein said he came up with a cover for the operation, saying it was part of a traffic study. Both Kelly and Baroni said they thought the study was real.
Kelly and Baroni could each face up to 20 years in prison.
Gov. Christie issued the following statement, as reported by NBC's Bradd Jaffy:
Statement from Chris Christie #Bridgegate pic.twitter.com/CkrqxHRMgC

— Bradd Jaffy (@BraddJaffy) November 4, 2016
This article has been updated with details of the case and Gov. Christie's statement.
Have a tip we should know? [email protected]