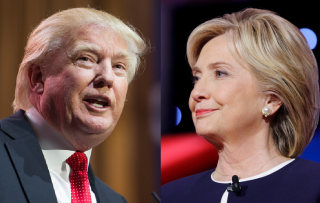 A 62-year-old Buffalo, New York woman has filed a federal lawsuit in court to stop the presidential election from taking place on November 8, 2016.   While the lawsuit is likely not going anywhere, Louise Nolley expresses the sentiment of many Americans. She contends that the election must be stopped immediately because both of the candidates fall far below the standards needed for a person representing the people.
Nolley writes in the lawsuit filed against Donald Trump and Hillary Clinton:
The 2016 is a mockery of the United States Constitution and as such violates the Constitutional Right of every citizen of the United Staes. The Candidates running for the president of the United States will not be reliable to fulfill the role of Chief of State ..

There are trust issues, questioning whether we the people can trust Hillary Clinton….

We have to question the election of Donald Trump. He has made racial comments throughout his campaign. He has no problem behaving rudely, mocking the disabled, down talking people of color, the poor , and the confined. There are reports of his sexually abusing women.
In an interview with LawNewz.com, Nolley said she decided to file the lawsuit because this is the first election that she will be allowed to vote in after some brushes with the law.
"They are making a mockery out of the Constitution," Nolley said, "I wanted it to be special for me. I feel like they are comedians."
Nolley is asking for a federal judge to stop the election and keep President Barack Obama in the White House until a serious, trustworthy, qualified person can be sought and elected to fulfill the position of President of the United States.  While the lawsuit has no shot of moving forward, can you blame her for trying?
Have a tip we should know? [email protected]
Rachel Stockman - Editor in Chief / On Air Host