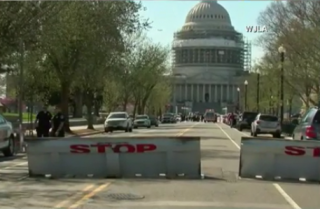 On Monday afternoon, a male gunman opened fire in the U.S. Capitol's Visitor Center, resulting in the Capitol Building being on lockdown. The White House was on lockdown as well, but CNN reports that both locations are now all clear. A Capitol police officer and a female civilian were wounded in the attack, and the shooter is now in custody, according to the New York Daily News. Video from NBC News shows one person being taken away in an ambulance.
WATCH: Video shows person loaded into ambulance at US Capitol amid lockdown. https://t.co/WSH69aNzABhttps://t.co/ABqEpOEmiL

— NBC Nightly News (@NBCNightlyNews) March 28, 2016
Capitol staff members were told to seek shelter where they were, and people outside were instructed to take cover.
LawNewz.com will have more on this story as it develops.
Update 3/28/16 3:46pm: A male suspect was shot by police and is being taken to a hospital.
Update 3/28/16 3:51pm: CNN reports that the lockdown has been lifted.
Update 3/28/16 4:24pm: ABC News reports that the suspect has been identified as Larry Dawson, of Tennessee. It is believed that he may be the same Larry Dawson who was arrested in October for assaulting an officer on Capitol Hill, when police tried to remove him from the House gallery for interrupting lawmakers.
[Image via screengrab]
Have a tip we should know? [email protected]