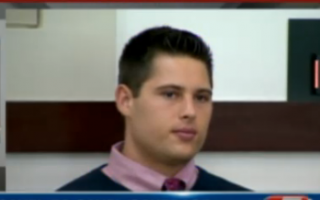 Late Saturday night, a jury reached a verdict in the retrial of Brandon Vandenburg, finding the former Vanderbilt football player guilty of raping a woman in his dorm room in June 2013, The Tennessean reported.
Vandenburg was accused of leading the woman into his room after having drinks with her at a bar. While in his bedroom, three other men sexually assaulted her, while Vandenburg recorded video of the assault on his phone. She didn't recall any of it the next day, and when she heard rumors of what happened, Vandenburg lied to her and tried to cover it up.
But the truth eventually came out, and the jury found Vandenburg guilty of five counts of aggravated rape, two counts of aggravated sexual battery, and one count of unlawful photography. He faces between 15 and 25 years in prison. A sentencing date has not been set yet.
One of the other men involved, Corey Batey, was found guilty in April. The other two, Jaborian "Tip" McKenzie, and Brandon E. Banks still have to face trials, after they each pleaded not guilty.
Have a tip we should know? [email protected]