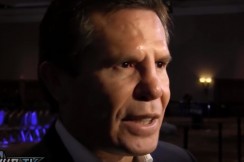 One of the best pro-boxers of all-time has denied alleged ties to El Chapo.
Julio Cesar Chavez, a retired six-time world champion, said he wasn't associated with actress Kate del Castillo, who allegedly set up a meeting between Joaquin "El Chapo" Guzman and actor-turned-reporter Sean Penn.
Journalist Richard Aleman had made the accusation in an article, which the Mexican boxer scoffed at.
"I talked to my lawyer in the United States and Mexico, and we will file a libel suit because [Aleman] is baseless," Chavez said, according to Pulso, a Spanish-language magazine. The boxer said the journalist accused him of also laundering money for the Sinaloa Cartel (which Guzman used to run).
Chavez, 53, admitted he's hung out with shady people, but only because he apparently doesn't turn down meetings or fan requests.
"I have known of all classes, from presidents, even the poorest, to the Pope," he said. "And I took pictures with everyone," he said. (Chavez once took a picture with Del Castillo during the opening of a rehabilitation center he opened in Mexico.)
But there're a bunch of alleged drug cartel links with the boxer. Chavez also denied ties with the likes of Juan Jose Esparragoza, and Francisco Arellano Felix, among others.
"[Aleman's] article in each of its lines is untrue and unfounded, violates my fundamental rights and would cause serious injury to my person, family, public reputation and labor relationships," Chavez said, according to Pulso.
El Chapo was captured Jan 8. by Mexican commandos after six months on the run, but the story only got weirder from then on. The capture may have been helped by the drug lord's interview with Penn for Rolling Stone. The crazy accelerated when it turned out that Del Castillo allegedly helped set up the meeting. She's now being investigated by Mexican authorities.
As for Chavez, it's unclear what these allegations would have on his legacy. With over a hundred recorded wins, he dominated several weight classes throughout the 1980s, fighting at about the same poundage as current top fighter and controversy magnet, Floyd Mayweather.
[h/t Latin One, Fight Hub TV image via screengrab]
–
>> Follow Alberto Luperon on Twitter (@Alberto Luperon)
Have a tip we should know? [email protected]