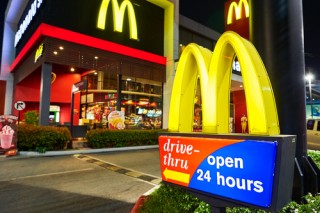 A blind man is suing McDonald's after being told that only customers in cars can use the drive-thru window, the Chicago Tribune reported. Scott Magee, 35, is from Louisiana, but he filed his class action lawsuit in federal court in Chicago because the fast food chain is based in Oak Brook, Illinois.
Magee claims that the car requirement violates the American with Disabilities Act by discriminating against blind people who can't drive. Since some McDonald's establishments operate only through the drive-thru during late night hours, anyone who can't drive a car there can't get food.
Magee's lawyer, Robert Luis Costales, said that getting a late bite to eat at McDonald's is "a quintessentially American activity that should not be denied to someone because of their disability." Costales suggested that McDonald's install outdoor phones so that people on foot can place orders, and that an employee can then bring the food out to them.
A representative from McDonald's told the Tribune that they do not comment on pending litigation.
Have a tip we should know? [email protected]