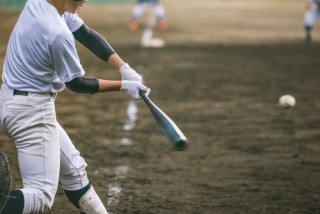 A fan who was struck by a foul ball at a Cleveland Indians game is suing the team after the incident left him blind in one eye, Cleveland.com reported. The ball club says Keith Rawlins, and any fan, assumes the risk of being struck with a ball when they attend a game.
Rawlins claims that the team is liable for his injury because at the time the ball was hit, he was distracted by a stadium employee who made him move in preparation for a post-game fireworks shows. Rawlins says the Indians are responsible, because being moved from his seat kept him from paying close attention to the action on the field.
According to the Court of Appeals's decision, the stadium posted signs and made announcements that certain sections, including Rawlins's, would be "cleared at the conclusion of the game." Rawlins's complaint states that an usher moved him and his daughter in the ninth inning. Rawlins is suing for his daughter's emotional distress for witnessing the incident. His lawyer also says that Rawlins's injury has prevented him from working, and that he is now poor as a result. Rawlins has not specified an amount of money that he is seeking.
The Cuyahoga County Court of Common Pleas ruled in favor of the Indians, but the Court of Appeals reversed the ruling, saying that moving a spectator from their seat for a "non-emergency or unjustified reason" presented a factual issue that should be heard at a trial. One of the issues mentioned by the Court of Appeals is whether the usher actually demanded that Rawlins and his daughter move during the game. They admit that the usher did not verbally ask them, but they claim that the usher stood with her hands on her hips while staring at them, as other fans were moving. The Indians appealed, and the case then went to the Ohio Supreme Court, which affirmed that decision.
Rawlins's attorneys are now looking to set a date for a trial back in the Cuyahoga County Court of Common Pleas.
[image via Shutterstock]
Have a tip we should know? [email protected]