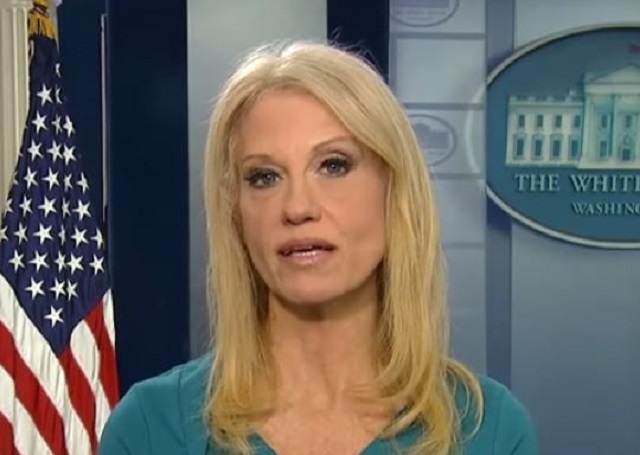 A group of law professors have filed a misconduct complaint against Kellyanne Conway, claiming that she violated the Rules of Professional Conduct for attorneys by giving false statements to the media.
Fifteen professors who teach legal ethics at law schools across the country signed the complaint, which was filed with the D.C. Bar's Office of Disciplinary Counsel. Conway is a member of the D.C. Bar under her maiden name, Kellyanne Fitzpatrick, although records show that her membership has been suspended for non-payment of dues (she remains an active member of the New Jersey Bar).
The complaint states that attorneys holding public office "have a higher obligation to avoid conduct involving dishonest [sic], fraud, deceit, or misrepresentation than other lawyers." Conway allegedly failed to live up to that obligation when she referred to a "Bowling Green Massacre" as justification for President Trump's travel ban, even though "Ms. Conway knew there was no massacre." The complaint also says that Conway made another false statement when she said that President Obama banned Iraqis from the United States after the so-called massacre. The argument put forward in the complaint says that there was no formal ban on Iraqis, only an order of enhanced screening.
In addition to those instances, Conway is accused of "conduct involving 'dishonesty, fraud, deceit, or misrepresentation,'" for claiming that "alternative facts" supported the Trump administration's claims regarding the size of the President's inauguration crowd. The complaints says, "'alternative facts' are not facts at all; they are lies."
On top of the alleged dishonesty, the professors allege that Conway "misused her position" when she promoted Ivanka Trump's brand on television from the White House, although they admit that this did not necessarily violate the attorney ethics rules.
[Image via Fox Business screengrab]
Have a tip we should know? [email protected]