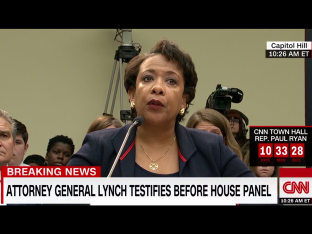 Attorney General Loretta Lynch testified before the House Judiciary Committee on Tuesday.  Almost immediately, the Attorney General was asked about FBI Director James Comey's findings in the Clinton email investigation.  However, the Attorney General refused to provide any additional details about her decision to not bring charges in this case.
At the beginning of the hearing, the Chairman of the House Judiciary Committee, Bob Goodlatte, asked Attorney General Lynch about her decision to not recuse herself from the Clinton email investigation.  Congressman Goodlatee also inquired as to whether recusal would've removed the appearance of impropriety that surrounds the investigation.
"Given that [Hillary Clinton] was a political appointee of your current boss, and more importantly the wife of your previous boss, why did not see fit to recuse yourself from the investigation?" Congressman Goodlatte asked.
"As I've said on several occasions before, when the referral came into the Department of Justice it was received and referred to experience and dedicated career agents and prosecutors who handle matters of this type every day," Attorney General Lynch replied.  "It was reviewed through the chain by those independent career agents and prosecutors.  And in considering the matter, there was no connection, there was no need for recusal or an independent prosecutor."
Congressman Goodlatte then asked specifically about her private meeting with former President Bill Clinton.
"It was a conversation that was held on the airplane… The former president indicated that he wanted to say 'hello' and I agreed to say hello," Lynch explained.  "We had a social conversation.  Nothing of any relationship to the email investigation was discussed.  Nor where any cases or matters before the Department of Justice discussed."
Congressman Goodlatte said there would be follow up on this specific topic later in the questioning and transitioned to asking questions about Director Comey's findings.  Specifcally, he asked about Director Comey's remarks that many of the things Hillary Clinton has said about her email turned out to be not true.  Attorney General Lynch, however, refused to provide an opinion on these matters, or any additional details about her decision to clear Clinton in the email matter.
"You know, Director Comey has chosen to provide great detail into the basis for the decisions of his recommendations that were ultimately provided to me," Lynch said.  "He has chosen to provide detailed statements and I would refer you to those statements.  I, as Attorney General, am not able to provide any further comment on the facts or the substance of the investigation."
This is an opinion piece. The views expressed in this article are those of just the author.