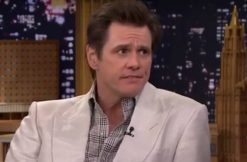 It was sad when Cathriona White died from an apparent suicide in 2015. It got uglier when her husband Mark Burton sued her ex-boyfriend Jim Carrey in September, blaming the comedian for her death. And when her mom Brigid Sweetman sued Carrey on Tuesday with an almost identical claim, it became clear that this wasn't going to end amicably. Case in point:
Attorney Michael Avenatti, who represents both Sweetman and Burton, told LawNewz.com on Thursday that Carrey and his attorneys are playing dirty. His statement reads that they hired two private investigators to dig up information, "including interviewing Cat's past friends and asking them questions designed to get them to speak badly about the grieving family."
Said Avenatti:
How dare Carrey and his Hollywood lawyers try and malign the family and intimidate them. Sending private investigators out to dig up dirt on a grieving mother is disgusting. These people have no bounds.
The statement, sent via email, went as far as to include pictures of the PI's business cards, and an invitation to contact them. Well, we did. One didn't answer his phone. The other declined to comment, even to confirm if Carrey hired him. So we won't name them for now.
Both Sweetman and Burton claim that Carrey gave Whites STDs and drugs.
We've reached out to Carrey's attorney Marty Singer for comment about the PI claim. In a September interview with TMZ, he called Burton's lawsuit a "money-grab scheme."
[screengrab via NBC]
–
Follow Alberto on Twitter (@Alberto Luperon)
Have a tip we should know? [email protected]