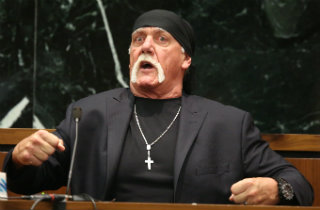 In a move that is surprising in the sense that you would expect it to have happened a long time ago, Hulk Hogan is trying to make sure he locates all stray copies of the sex tapes shot without his knowledge. The target of his ire is the former Gawker writer/editor who his lawyers call "an angry 'buccaneering fellow' who thumbs his nose at the law and cannot be trusted."
You may recall that two weeks ago, we told you about how former Gawker editor in chief A.J. Daulerio did a podcast interview discussing his role in the Hulk Hogan sex tape lawsuit in detail. Daulerio was the writer of the article about the tape, which was published alongside heavily edited clips of it. As the only defendant from the lawsuit not to file bankruptcy, he is now on the hook for almost the entire nine figure judgment. The big revelation from the podcast was that he had prepared to go into hiding and post the entire sex tape online before he vanished, only to be talked down by friends.
Not surprisingly, in light of the podcast, Hogan is now trying to make sure that never happens if Daulerio has a change of heart. In a motion filed in Florida's Pinellas County Court last Thursday, Hogan is looking for an order stopping Daulerio "from violating Florida's 'Revenge Porn,' Video Voyeurism and Extortion Laws" by making him turn over the DVD of the sex video, any still images taken from it, and all copies thereof. Hogan's counsel refers to Daulerio's statements on the podcast as a "thinly-veiled threat to release the entire full length 30-minute Video" which "confirms the fears Mr. Bollea expressed throughout this case."
Hogan had previously secured an injunction preventing the defendants from releasing the video. The motion will most likely be heard in court at the next hearing in the case, which takes place on Halloween.
[Photo: Pool Photo]
Have a tip we should know? [email protected]