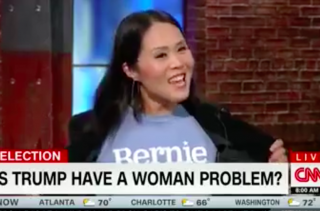 During a CNN New Day segment Friday morning which examined how Trump treats women, Elizabeth Beck, a Miami-based attorney, came on to discuss a contentious episode that happened when she requested a lunch break during a 2011 deposition with Donald Trump. She said she needed to excuse herself to breast pump.
"I had to break for lunch for medical reasons. I don't want to tell everybody what the reasons were. I managed to keep it a secret until then. But now everybody knows so I'll say it. I had to break for lunch to breast pump," Beck said. She appeared on the Friday morning segment wearing a Bernie Sanders t-shirt.
Beck admits that, at first, Trump didn't know why she needed to take a break.
"He said 'no lunch.' I said no, 'I think we are breaking for lunch.' He said 'no lunch.' I said, 'You know what, I'm just going to tell everybody what I needed the lunch break for,'" she said.
This is not the first time Beck has gone public with her disdain for Donald Trump. In a previous interview, Beck said: "He got up, his face got red, he shook his finger at me and he screamed, 'You're disgusting, you're disgusting,' and he ran out of there."
Watch the full segment:
When anchor Alisyn Camerota pressed her on whether she thought Trump treated her differently because she was a woman, she replied: "You can hate women, but not exclusively women. I think there is many many examples of Trump treating women in a disrespectful manner. He treats a lot of people in a disrespectful manner."
Tyana Alvarado, a former Apprentice contestant, also on the segment, had favorable things to say about Mr. Trump.
"I don't feel that he is anti-woman. I think he is just a person that you have to earn his respect either man or woman," Alvarado.
Trump has previously attacked attorney Beck for her statements:
.CNN & @CNNPolitics Lawyer Elizabeth Beck did a terrible job against me, she lost (I even got legal fees). I loved beating her,she was easy

— Donald J. Trump (@realDonaldTrump) July 29, 2015
According to CNN, Trump's deposition stemmed from litigation over a failed real estate project. Beck's clients claimed they lost tens of thousands of dollars when the project failed. Trump's attorney, Allen Garten, confirmed that the incident happened but claimed that it was a stunt by Beck because she was having trouble during the deposition.
"She was attempting to breast feed — to pump in the middle of a deposition, in a deposition room with five lawyers and was not excusing herself," he told CNN.
Beck, a Yale Law School graduate, is a founding partner at Beck & Lee in Miami, Florida.
Have a tip we should know? [email protected]
Rachel Stockman - President / On Air Host