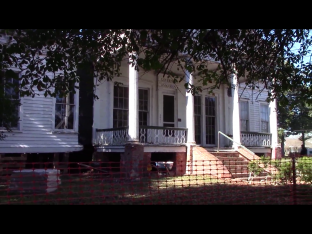 Investigators in Louisiana say arson destroyed the historic Civil War era Old Governor's Mansion in Opelousas, a town approximately 60 miles west of Baton Rouge.  Investigators say it was one of two fires that were intentionally set at historic sites in the area sometime between late Wednesday evening and early Thursday morning.  Evidence of a second fire was discovered at the Louisiana Orphan Train Museum when employees arrived at work on Thursday morning.
Opelousas Fire Chief Charles Mason on Thursday told the Opelousas Daily World newspaper that both fires were intentionally set.  The Old Governor's Mansion was completely destroyed by the blaze, but the train museum only had minor damage.
"We have not established a connection between the two fires, but we have not ruled it out either," Chief Deputy Brant Thompson told the newspaper.
The first report of the fire at the Governor's Mansion came in at approximately 12:48 AM on Thursday.  The fire department reportedly arrived within four minutes of the call, but the building was completely engulfed in flames.  The fire was so intense that buildings across the street and some vehicles parked nearby sustained heat damage.
New Photo: Louisiana's Oldest Governor's Mansion destroyed by AM fire in Opelousas @KLFY pic.twitter.com/lamBGFuPWk

— Gerald Gruenig (@GeraldGruenig) July 14, 2016
Opelousas Mayor Reggie Tatum expressed concern about people trying to destroy the history of the town.  "We can't allow vandals to burn the history of Opelousas," Mayor Tatum said.  "We just can't."
A witness told the newspaper that he saw two vehicles parked near the mansion as he drove home from work early Thursday morning.
"I saw two cars parked on the side of the road next to mansion," Damon Fontenot said. "I wondered why would someone be parked that close to a fire. I drove home to call in the fire, but by the time I got home, I felt like I heard every siren in Opelousas."
The plantation style mansion briefly served as the home of Gov. Thomas Moore from 1862 to 1863 when the capital moved from Baton Rouge to Opelousas.  When Union troops advanced on the town in 1863, the capital was moved again to Shreveport.  Efforts had been underway for past several years to restore the mansion to its former glory.
Have a tip we should know? [email protected]