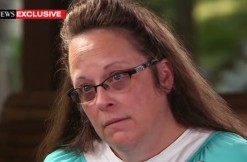 Kim Davis, the county clerk who famously refused to issue marriage certificates to same-sex couples, has lost her lawsuit against the state of Kentucky. A federal appeals court determined she wasn't experiencing irreparable harm so they dismissed the legal action, the Associated Press reports.
Davis, 50, said that issuing the licenses violated her religious beliefs after the Supreme Court gave the okay to gay marriage in Obergefell v. Hodges. She was jailed in September for contempt of court.
She sued several state officials, including then Gov. Steve Beshear, a Democrat. After Beshear left office in 2015, his successor Republican Matt Bevin signed an executive order keeping the names of county clerks off marriage license forms.
But she's still getting sued by the American Civil Liberties Union for refusing to issue the licenses. That lawsuit is still ongoing.
[screengrab via ABC]
–
Follow Alberto Luperon on Twitter (@Alberto Luperon)
Have a tip we should know? [email protected]