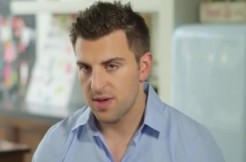 In a statement released Friday, two civil rights organizations—the Lawyers' Committee for Civil Rights Under Law, and Lawyers' Committee for Civil Rights and Economic Justice (Boston Lawyer's Committee)—announced they told Airbnb to better eliminate discrimination in its service. In response, the company says they want to fix the bigotry problem, but they don't know what the solution looks like.
A little backstory is in order.
Airbnb, a service that facilitates lodging rentals, has been accused of facilitating racism. Since July, frustrated renter Quirtina Crittenden shared her story with the hashtag, #AirbnbWhileBlack: She said rent bookers misled her, telling her listings were filled or unavailable when in fact, they actually remained active. The hashtag became more popular after Gregory Seldon shared about his experience: He said he was only booked for a property after using a fake, "white" account. He's now suing Airbnb. Hispanic and transgender people have shared their own stories.
More recently, a woman tweeted racist messages from a North Carolina host. [Warning for racial slur.]
My friend and classmate here at Kellogg had a hateful and racist encounter with an @Airbnb host. pic.twitter.com/rFHlwqy5sQ

— Shani C. Taylor (@shanictaylor) May 31, 2016
CEO Brian Chesky later tweeted that they kicked out the man, and racism had "no place on Airbnb." This comment met skepticism from Bijan Stephen, an Associate Editor at The New Republic.
@bchesky lol man come on you know this is systemic. banning one guy is symbolic. do actual work

— younger thug (@bijanstephen) June 1, 2016
During a June 8 speech to his employees, Chesky reiterated his company's zero tolerance policy against prejudice, and said they were "open to ideas" about how to fix it. But too little, too late maybe: The controversy fostered the creation of two competitors, Noirbnb and Noirebnb, which promise a friendlier renting experience for black travelers.
Are you caught up now? Okay. So as we mentioned, the two civil rights groups said they communicated with Airbnb.
"This action follows the Boston Lawyers' Committee's May 2016 letter to U.S. Department of Housing and Urban Development (HUD) Secretary Julian Castro, calling upon HUD to investigate potential violations of the federal Fair Housing Act (FHA) in the Airbnb market," they told LawNewz.com, citing stories of discrimination against black people, Latino people, and other minorities.
Their tone has been cordial, but they say Airbnb should do more to fight discrimination. Both groups mention several federal laws that protect renters: besides the FHA, there's also 42 U.S.C. § 1981, 42 U.S.C. § 1982, and the Civil Rights Act of 1964.
In their June 10 letter addressed to Chesky, they reiterated their support for specific recommendations by a Harvard Business School study that discovered anti-black bias on the platform: for example, minimizing host bias by allowing the use of pseudonyms in preliminary contact between bookers and renters; and eliminating pre-screening.
We reached out to Airbnb, and got this response from a spokesman:
We appreciate receiving this letter and we continue to encourage everyone who shares our commitment to fighting discrimination – whether it be explicit racial discrimination or unconscious racial bias – to tell us what they think. We don't have all the answers and we will continue to reach out to a wide range of experts and members of our community to get their ideas and advice.
–
Follow Alberto Luperon on Twitter (@Alberto Luperon)
Have a tip we should know? [email protected]