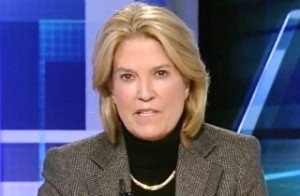 By now, you've heard that Greta Van Susteren is leaving Fox News after 14 years. Fox made the announcement just minutes after news broke about the network's $20 million dollar settlement with former anchor Gretchen Carlson. There is a cloud of suspicion over why Greta would leave so abruptly. Now, we are learning a bit more about the circumstances. For one, there are several reports that she left over a disagreement about finances. Here's what's interesting: Greta's contract was apparently not up. However, she has a clause in her deal that's called a "key man clause." That means if Roger Ailes leaves, she can exercise her right to leave. And that's exactly what's she done. Her husband also hinted that there may be future legal action.
The New York Times spoke with Greta's husband, John P. Coale, on the phone, and pay attention to this key section:
Ms. Van Susteren's husband, John P. Coale, said in a phone interview on Tuesday that his wife exercised what is known as "key man clause'' on Friday, which allowed her to leave if Mr. Ailes was not in control.

He said, "There's so much chaos, it's very hard to work there." He said the timing of her departure with the announcement of the settlement with Ms. Carlson was a "coincidence."

Asked about why she had exercised the key man clause, he said, "There's more than meets the eye" and that there "might be litigation in the future" so he did not want to talk further.
The Times doesn't clarify what the legal action would entail. We can only assume this means she may take legal action against Fox News, regarding a dispute with her contract. We will keep you posted if we get more information.
Update: We have changed the headline on this article to more accurately reflect Mr. Coale's comments. 
Have a tip we should know? [email protected]
Rachel Stockman - President / On Air Host