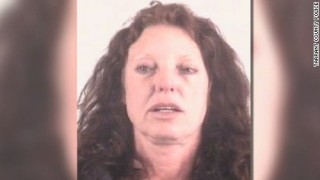 If there were ever a time for some tough love, that time her son killed four people while driving drunk was probably it. But this mom reached new heights of enabling, when investigators say she helped her son skip town to avoid being nabbed for a probation violation.
Tonya Couch, the mother of Ethan Couch — known as the "affluenza teen," has now been indicted by a Texas grand jury for hindering apprehension and money laundering. In 2013, the Couch boy avoided jail time and was sentenced to just ten years alcohol-free probation. Two years into his probation, Couch was caught on video consuming alcohol at a raucus party. According to police, Affluenza mom grabbed a quick $30K from her bank account and made her way with Ethan across the Mexican border back in December. Shortly thereafter, mom and son were apprehended and returned to the United States. Ethan Couch is now in jail, serving out a two-year sentence for probation violation, while Mom was released on $75,000 bond from the Tarrant County Jail.
This story is a classic apple-not-falling-far-from the tree tale of a boy raised with too much privilege and too little accountability. The story of Ethan's absurdly lenient sentence as a result of asserting the "affluenza defense" captivated us all, as we collectively considered the truth behind such a wild claim.   The idea that a teenager could be so sheltered from reality as not to understand the consequences of manslaughter was simultaneously unbelievable and frighteningly possible. While parents across the nation fretted that their own shortcomings would create a generation of spoiled brats-turned-accidental-killers, I viewed the case through slightly different eyes.
Maybe, I thought, the "affluenza defense" was nothing more than a bit of creative, if distasteful, lawyering. After all, top-dollar defense counsel should be coming up with something novel and effective; I'd have been less disgusted if the Couch defense rested on procedural or statutory grounds – but I'd also have been less impressed. And more importantly, if it were my child who'd found himself in legal trouble, I'd want the best defense possible – even if that defense came at the price of media sensationalism and public loathing. I also saw the "affluenza defense" for what it could have been – a statement of motherly protection. "Your failings are my failings, my son. Let me martyr myself and malign my mothering to save you from serving jail time," it could have meant.
But it didn't mean that. As it turns out, the worst part about the "affluenza defense" is that it was apparently true.   Ethan Couch couldn't possibly be expected to know right from wrong when his mother apparently hasn't mastered the concept herself.
There are a lot of things we could say about a probation-only sentence for a quadruple homicide. But the most obvious thing is that it was lucky for Ethan Couch. Few defendants and few legal teams could have pulled off such a bold and bizarre defense; I always believed that whatever else they were thinking, the Couch family knew they'd dodged some serious prison time.  And yet, there's no evidence that they understood Ethan's near miss with prison. There's no indication that this family has any genuine context for their behavior. All signs point to these people truly being so privileged as to have broken with reality.
That break with reality is what that bothers us most as responsible people. Our collective revulsion at Mrs. Couch's choice to allegedly go on the lam with her son instead of supporting him as he faced the rightful consequences of his actions is perhaps the best evidence of "affluenza." These people clearly do not think the way the rest of us do – and that was the defense's point all along.
Have a tip we should know? [email protected]
Elura Nanos - CEO, Lawyer Up; Columnist & Host, Law & Crime