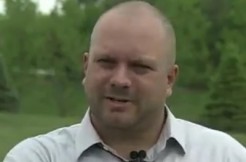 Matt Stewart's kids aren't going to Southwest Elementary school for now, not after he discovered his 9-year-old son used the restroom with a trans boy.
"My children are having to choose between embarrassment and intimidation," the father, from Howell, Michigan, told Click on Detroit in a Thursday report. He said his son told him a school employee accompanied them into the restroom. "She [the trans boy] was instructed to look at the wall, don't look, and there was a conversation with my 9-year-old about standing closer to the urinals."
He was concerned over the effect this had on his kid. "Our son was initially confused, and he talked about this in a manner where he almost felt as if he was doing something wrong," he said.
Now Stewart, who says he didn't know the school would implement the feds' trans-friendly bathroom guideline, plans on homeschooling his three kids, who are all under age 10.
"Our kids are absent from school until there's a policy in place that keeps them from being humiliated or intimidated," Stewart told The Livingston Daily on Wednesday, later saying, "The bottom line: A 9-year-old girl is in the boys' bathroom with my son."
Howell Public Schools told Click on Detroit that yes, parents weren't notified of the policy enforcement ahead of time, but—
"This is a new and rapidly developing area of law," they said. "Howell Public Schools intends to comply. Measures will, therefore, be implemented consistent with this guidance in a way which ensures the safety, privacy, and dignity of all involved."
Under Obama's guidelines, kids will be allowed to use bathrooms matching their gender identity. It is non-binding, though officials opposing it claim states that don't follow it will lose federal education funding.
It remains unclear if Stewart's story presents a typical depiction of how Howell Public Schools handles the trans-friendly restroom policy. Do school employees typically accompany trans kids inside? Is coaching (eg. requests to stand closer to the urinal) typical?
No way, according to Tom Gould, Director of Public Relations for Howell Public Schools. He wrote the following statement to LawNewz.com:
It is not the policy of Howell Public Schools to have a staff member accompany any student into the restroom. Staff members remain outside the restroom when students are using them and are prepared to maintain the safety and security of students if necessary.

We have not been able to substantiate or disprove Mr. Stewart's claim that a staff member instructed students to stand closer to the urinal.

This is an emerging and fluid matter, we have begun to provide staff with resources on ensuring that each student is treated with respect and dignity in a safe learning environment.
11 states are suing the Obama administration over the bathroom guideline. Michigan is not one of them.
Update — May 27, 2:11 p.m. ET: This article was updated with a statement from Tom Gould, Director of Public Relations for Howell Public Schools
–
Follow Alberto Luperon on Twitter (@Alberto Luperon)
Have a tip we should know? [email protected]