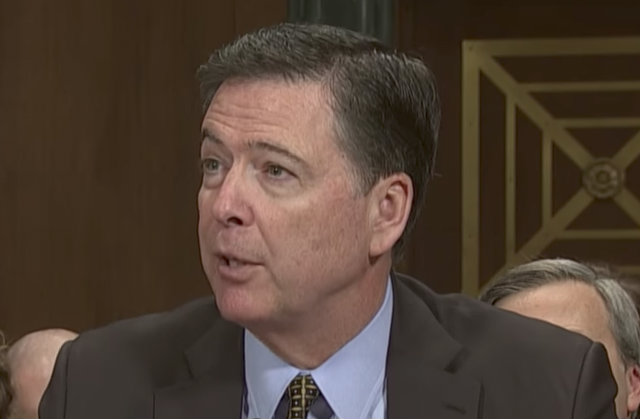 The American Civil Liberties Union filed a Freedom of Information Act request on Monday to learn why President Donald Trump fired FBI Director James Comey. That letter was addressed to the Justice Department, Attorney General Jeff Sessions, Deputy AG Rod Rosenstein, and the Federal Bureau of Investigation.
"In short, the White House's explanations for firing Mr. Comey have shifted significantly over a matter of days, and the public does not know the actual basis for this decision," the ACLU said. "The public is entitled to know the real reasons for President Trump's decision to fire Mr. Comey. The public is also entitled to know the role played by the Department of Justice in this dismissal, as well as any concerns or objections raised within the Department of Justice or the FBI."
They point to the administration's shifting explanation for firing Comey. In his original Dear Jim letter, Trump said he did it on Sessions' and Rosenstein's recommendation. Ostensibly, they didn't like the way he handled the investigation into Hillary Clinton storing work-related emails on a private server. But the President later claimed firing Comey was on his mind for quite a while, and that he would have done it with or without the recommendations.
Now the ACLU wants memoranda, correspondence, emails, voicemails, meeting meetings, performance reviews, drafts, and note connected to Comey's firing.
A Justice Department spokesperson declined to comment when we reached out.
Trump fired Comey on Tuesday, sparking skepticism about his timing and motivation. After all, the FBI has been investigating Russia's interference in the 2016 election. That includes searching for any collusion between the president's campaign and Moscow. U.S. intelligence officials said in December that the Kremlin wanted him to win.
POTUS has emphatically denied he or his campaign committed any wrongdoing.
"There was no good time to do it [fire Comey]," he told NBC on Thursday. "And in fact, when I decided to just do, I said to myself, I said, 'You know, this Russia thing with Trump and Russia, is a made up story. It's an excuse by the Democrats for having lost an election they should have won."
Update – May 15, 9:26 p.m.: A Justice Department spokesperson responded to our request for comment, but declined to say anything about this.
[Screengrab via PBS]
Have a tip we should know? [email protected]