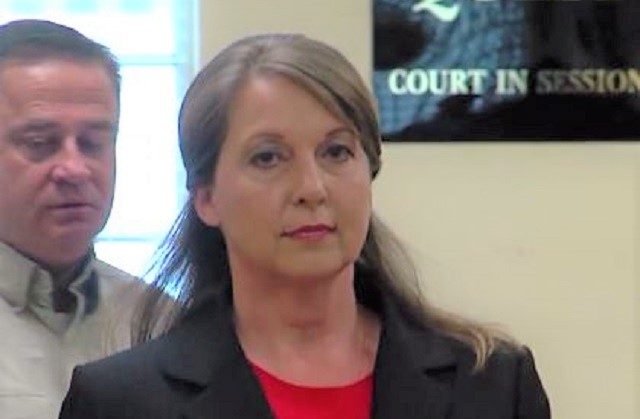 Officer Betty Shelby, charged with first-degree manslaughter for the shooting death of Terence Crutcher, took the stand on Monday. Shelby, who is white, shot Crutcher, an unarmed black man, in September 2016. Tulsa, Oklahoma Police had responded to the scene after receiving a report of an abandoned vehicle with the engine running, and arrived to find Crutcher near the car.
Shelby's defense claims that Crutcher was walking away from officers towards his car, disobeying multiple orders to stop moving and get on the ground. Video showed Crutcher turning towards the vehicle before Shelby fired.
When she took the stand, Shelby discussed her background, including how she was raised by an aunt after being taken from her mother's home and spending time in foster care, according to local KTUL. Shelby's testimony later turned towards her police training and the day she shot Crutcher. She said that she had drawn her weapon numerous times in the past, but never fired on the job until that September day.
Shelby says she pulled her gun many times but never fired in the line of duty, until September 16 2016 @KTULNews

— Kim Jackson (@KimChannel8) May 15, 2017
Shelby said during the encounter, she thought about her training, and how she had been instructed not to let a suspect extend their arm if they're reaching into their car, because they could potentially grab a gun. She said she feared that if she didn't act quickly, her life could have been in danger.
The prosecution rested their case on Friday, and the defense is expected to wrap up Monday or Tuesday.
[Image via KTUL screengrab]
Have a tip we should know? [email protected]