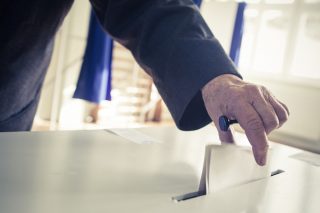 Seminole County Supervisor of Elections Mike Ertel confirmed that in at least five instances, Florida voters were disenfranchised when their absentee ballots were stolen, filled out, and submitted without the registered voters' knowledge.
Five people from three households in the same neighborhood had their votes essentially stolen from them, The Orlando Sentinel reported. Two of them, Susan and Lawrence Halperin, noticed something was wrong when they hadn't received his ballot in the mail in mid-October. Lawrence Halperin called the Supervisor of Elections Office to find out what was going on, and that's when he heard the startling news: their ballots had been completed, signed, and turned in already.
"He was just floored," Susan Halperin said about her husband. "To think that someone would actually steal my ballot and fill it out is creepy."
Ertel said that all five of the forged ballots were filled out on October 12, and that the voters who were supposed to get them received new ones. We're going to ensure that whoever did this will be caught and punished," he said. "We take this very seriously … I'm not a softy when it comes to election fraud." Ertel said this is the first time since he took office in 2005 that he's seen this happen.
It's still unknown who stole the ballots or if there was a particular agenda behind it, as members of both major parties were among the victims.
[Image via Shutterstock]
Have a tip we should know? [email protected]