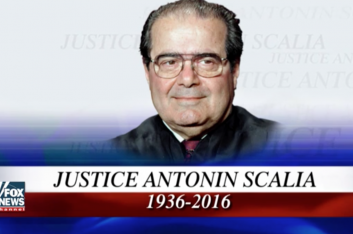 With today's shocking news of the sudden death of Supreme Court Associate Justice Antonin Scalia, the longest serving member of the current Court, LawNewz looks back at the tenure of the man the Washington Post called "the most consequential jurist of the last 35 years."
Justice Scalia was nominated to the Supreme Court by Ronald Reagan in 1986 after serving 4 years on the U.S. Court of Appeals for the D.C. Circuit.  He was confirmed by the Senate in a vote of 98-0.  During his nearly 30 years on the nation's high court, Scalia became known for his intellect, wit, and memorable opinions, especially his dissents.
Scalia wrote for an audience beyond that of just his colleagues or followers of the Court, and as a result his opinions are widely read by lawyers and laypersons alike.  This allowed Scalia's beliefs —that of a staunch originalist — to steadily gain more and more influence to the point that many of his ideas have come to dominate the modern debate in nearly all aspects of the law.
There is no better example of this influence than the case of District of Columbia v. Heller, in which the court recognized an individual right to keep and bear arms in majority opinion authored by Scalia.  In addition to its significance for the court's holding, the case is significant because both the majority and dissent fought over the original meaning of the text of the Second Amendment — following the approach Scalia long advocated.
Scalia was also known for strong distaste for analyzing legislative intent when attempting to interpret statutes.  He was also a strong opponent of affirmative action or any law that he believed sought to provide privilege for any one class over another.
While often viewed as a strict conservative, Scalia frequently took positions that were at odds with his perceived policy preferences.  He voted down a law making it a crime to burn the American flag in the 1989 case Texas v. Johnson.  Scalia was also likely to interpret the Constitution in a manner that often helped criminal defendants and his views were crucial to persuading the Court to overturn federal mandatory minimum sentencing guidelines in .  In 2004, Scalia penned the majority opinion Kyllo v. United States that determined the police department's use of thermal imaging to see through a persons home to discover a marijuana growing operation violated a right to privacy.
Scalia was not without his critics, however, especially in his later years on the Court where some critics accused him of being homophobic for his views of same-sex marriage and homosexuality.   Nonetheless, Scalia will likely still be remembered as one of the most outspoken and influential jurists to ever sit on the Supreme Court, even outside of conservative legal circles.
[image via screengrab]
Have a tip we should know? [email protected]