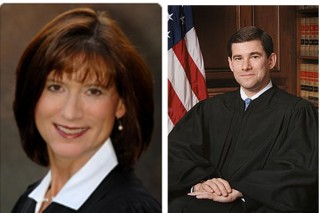 During the Republican debate on Saturday night, Donald Trump floated two names as potential nominees to the U.S. Supreme Court: Judge Diane S. Sykes and Judge Bill Pryor.
"We could have a Diane Sykes or a Bill Pryor, we have some fantastic people," Trump told the audience. Both judges are well-known conservatives serving on the federal level.

Who is Diane S. Sykes?
Sykes is a federal judge on the United States Court of Appeals for the Seventh Circuit. She was nominated by George W. Bush and confirmed in 2004. She went to Northwestern University and attended Marquette University Law School. She was dropped as a name for the U.S. Supreme Court under President George W. Bush. She was part of the 2011 panel that held a Chicago ban on firing ranges unconstitutional. Prior to being appointed on the federal court, Sykes served as Justice on the Wisconsin Supreme Court.
Who is Bill Pryor?
Pryor is a federal judge in the United States Court of Appeals for the Eleventh Circuit. He was nominated by President George W. Bush in 2003. His nomination was filibustered so in 2004, President Bush installed the former Alabama Attorney General on the court during a congressional recess appointment. Democrats scrutinized Pryor for some of his conservative stands, including on Roe v. Wade. Pryor previously said, according to confirmation hearing testimony, that Roe was "the worst abomination in constitutional law in history."  After a higher court ruling on a Alabama execution case, he allegedly ridiculed the Supreme Court by saying "This issue should not be decided by nine octogenarian lawyers who happen to sit on the Supreme Court." Most recently, Pryor was nominated by President Obama to sit on the United States Sentencing Commission.
 [images via Wisconsin Supreme Court, and WikiCommons via Federal Court]
Have a tip we should know? [email protected]
Rachel Stockman - President / On Air Host