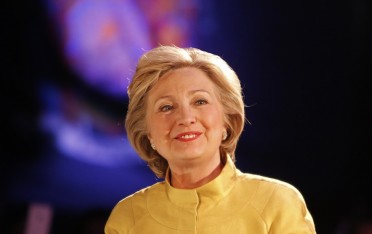 The FBI on Friday afternoon, released Hillary Clinton's interview notes over the use of her private email server.
As expected, much of the material is still classified and redacted, but there are still a handful of interesting takeaways.  Here are the most interesting bits of information from Clinton's FBI FD-302 form.
1.  Clinton "could not recall any briefing or training by State related to the retention of federal records or handling of classified information (emphasis added).
2.  Clinton "was aware she was an Original Classification Authority (OCA) at State, but "could not recall how often she used this authority or any training or guidance" she received from the State Department.  Furthermore, she "could not give an example of how classification of a document was determined."
3.  Clinton was involved in nominating individuals to be targets of drone strikes,   although she could not recall the "specific process for nominating a target for a drone strike" (and much of this portion of the document is redacted).  Clinton did recall disagreements between the Department of Defense (DOD), State and the Central Intelligence Agency (CIA), the three of the agencies she knew played a "role" in the drone strike decision process.
4.  Clinton evidentially did tell her FBI interviewers that she spoke with Colin Powell about using a private email device while serving as Secretary of State.  In the interview, Clinton said she made the decision for convenience, but also "noted she had spoken to former Secretary of State COLIN POWELL" who used a private AOL server for a handful of official emails during his tenure in the early 2000s.   Upon hearing various accounts of Clinton's remarks on this subject, Powell appeared to grow increasingly frustrated and called her recollection of events into question, to put it charitably.
5.  Again, Clinton appears to have little trouble during her FBI interview blaming her aides for the existence of classified material on her server.  She told FBI agents, she "relied on State officials to use their judgment when emailing her and could not recall anyone raising concerns with her regarding the sensitivity of the information she received at her email address."
In a separate portion of the interview, Clinton reiterated the point, telling agents, "at least a hundred, if not several hundred State employees had her [email address]."  Yet, none of her "staff ever expressed a concern regarding the sensitivity of the content of these emails."
6. In a heavily redacted portion of the interview notes, there appears to be much discussion about the sources and subjects of emails Clinton received from Sidney Blumenthal and other individuals whose names are redacted.   In nearly every case, Clinton tells the agents she has no concerns with the appropriateness of discussing such material via email.
Her reason?
Many of those discussions occurred with individuals who she felt "were experienced foreign service professionals and she had no reason to doubt their judgment and ability to handle classified information."
When the discussion turned to drone strikes, Clinton's response to the FBI is truly head scratching. She "stated deliberation over a future drone strike did not give her cause for concern regarding classification" because she "understood this type of conversation as part of the routine deliberation process."
7. Finally, when the topic of preserving federal records came up during the interview, Clinton "stated she received no instructions or direction regarding the preservation or production of records from State during the transition out of her role as Secretary of State in early 2013."  She then blamed her infamous fall and concussion from December 2012 as a possible reason she could not recall conversations surrounding that time period and topic.
Clinton told the agents she "suffered a concussion and then around the New Year had a blood clot. Based on her doctors advice, she could only work at State for a few hours a day and could not recall every briefing she received."
When the State Department finally sent a letter in 2014 to Clinton requesting her assistance in recovering any federal records (from her tenure as SOS), she told FBI agents she "wanted to assist."
According to the interview, "[S]he expected her team to provide any work-related or arguably work-related emails to State; however, she did not participate in the development of the specific process to be used or discussions of the locations where her email might exist (emphasis added).
READ THE FULL FBI CLINTON INTERVIEW HERE
This is an opinion piece. The views expressed in this article are those of just the author.