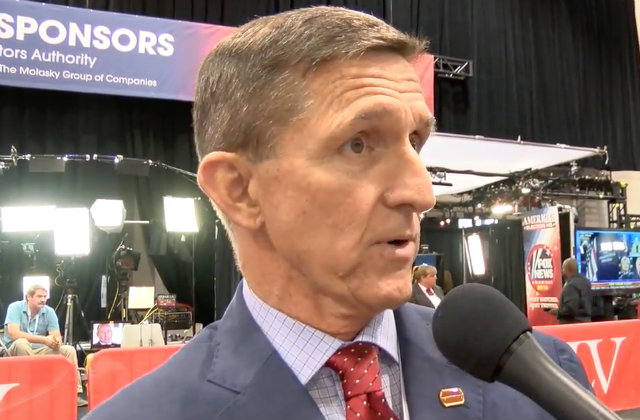 Former National Security Adviser Michael Flynn pleaded guilty Friday to lying to FBI agents about his conversations with a Russian ambassador about United States sanctions and a United Nations resolution about Israel. The plea agreement is out. Here are some of the most important details.
1. What law did he admit breaking?
The retired Lt. General copped to one count under 18 U.S. Code Section 1001 because he lied to FBI agents in the middle of their investigation. This typically carries a maximum sentence of 5 years in prison, and fines. But…
2. He might dodge imprisonment.
Under the plea document, both sides agreed that the "Base Offense Level" is at a 6. But the plea agreement will treat this as a 4 "if Flynn demonstrates acceptance of responsibility, to the satisfaction of the Government, through your client's allocution, adherence to every provision of this Agreement, and conduct between entry of the plea and imposition of the sentence."
Basically, Flynn must continue playing nice with prosecutors. Under sentencing guidelines, he likely faces only 0 to 6 months imprisonment. He may also get a fine between $500 and $9,500. As typical in plea deals, a court can still hand down the maximum sentence of 5 years, but there is currently nothing to suggest that this might happen.
3. Flynn is cooperating
Part eight of the agreement lays out that Flynn is cooperating with investigators. This includes working with federal, state and local law enforcement officials identified by the special counsel's office as relevant to the plea deal. Flynn may provide written statements, polygraph tests, and the like. He must also turn over "any and all evidence of crimes" that he knows about.
As part of the plea deal, Flynn is agreeing that he will testify before any grand jury, and at any trial that the special counsel's office deems "relevant." He must also turn over a complete accounting of his financial assets.
What does this all mean?
It is all kind of speculative now, but there are some details to keep in mind. Special Counsel Robert Mueller's office, which prosecuted Flynn, is investigating whether President Donald Trump's campaign helped out in Russia's 2016 election interference efforts. According to ABC, a source said that Flynn is ready to testify against Trump, the president's family, and others in the White House.
Pundits have debated over whether Trump committed obstruction of justice by firing FBI Director James Comey. He allegedly asked Comey in February to drop an investigation into Flynn.
Donald J. Trump Jr. and Jared Kushner have also been implicated in the Moscow scandal because of their 2016 private meeting with a Russian lawyer to get dirt on Hillary Clinton. There is also the matter of their involvement in private communications with WikiLeaks, which published emails allegedly obtained from Kremlin hacking efforts.
Trump called the Russia investigation a "witch hunt" by Democrats. White House attorney Ty Cobb released a statement Friday downplaying the guilty plea because the charge only touched Flynn.
You can read Flynn's full agreement here.
Michael Flynn Plea Deal by LawNewz on Scribd
You can also read the statement of offense here.
[Screengrab via Mike Sacks]
Have a tip we should know? [email protected]