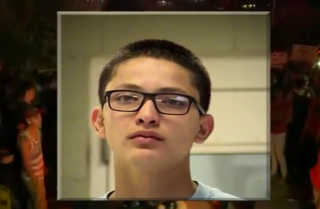 When protests outside a Trump rally in New Mexico turned ugly last month, a 14-year-old got in on the action, allegedly hurling a rock at a police officer. Now, the youngster, Marcus Griego, is being charged as an adult, hit with two felony counts of aggravated battery on a peace officer, KRQE reported.
"The commander actually witnessed Marcus throw a rock directly and hit the sergeant that was standing next to him," Celina Espinoza, spokeswoman for the Albuquerque police, told KRQE, adding that "Marcus kinda laughed it off and kinda just pretended it wasn't a big deal."
Griego's attorney, Tom Clear, believes that prosecutors are going overboard with the felony charges, and with treating his client like an adult instead of a juvenile. Currently, Griego is being held at a juvenile facility on $10,000 bail, after the district attorney's office asked for $20,000. Police appeared willing to go easier on the kid, saying they'd be willing to have Griego go on police ride-alongs or work in the horse stables as punishment. "We don't want to make an example out of a 14-year-old. We want to be able to guide and lead him in the right direction," Espinoza said.
Police say 30 suspects attacked officers outside the event, but so far just three have been arrested.
Have a tip we should know? [email protected]