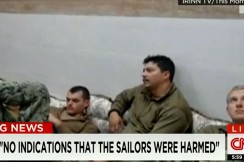 The 10 American sailors detained by Iran were freed early Wednesday, according to U.S. and Iranian officials. No injuries were reported.
The sailors had been captured Tuesday when they crossed over into Iran waters in two small U.S. Navy boats. They were being held at the base on Farsi Island in the Persian Gulf. They were released with the boats they were captured with. Navy aircraft and other sailors accompanied them back to Bahrain.
In a statement, Gen. Ali Fadavi, said the Americans entered Iranian waters by accident after technical problems screwed their navigation system. This matches earlier U.S. explanations as to why the two Navy boats crossed into Iran waters.
American officials said the boats were part of a training exercise.
Incident occurred amid increased tension between the U.S. and Iran., when Iranian forces launched rocket tests near American ship traveling through the Strait of Hormuz, a major route for oil.
[h/t The Associated Press, image via screengrab]
–
>> Follow Alberto Luperon on Twitter (@Alberto Luperon)
Have a tip we should know? [email protected]