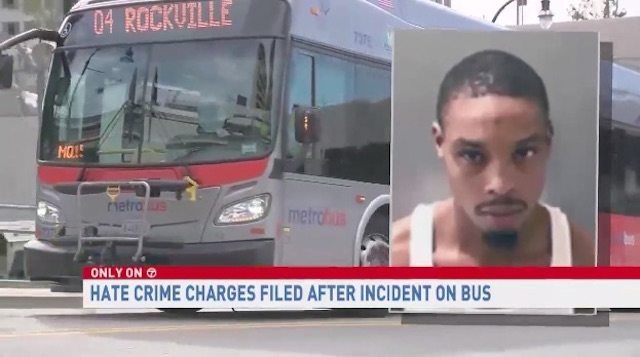 A disabled, homeless man was attacked on a public bus in Maryland–apparently because of his age and race.
The 52-year-old passenger, who is white and not being named in press reports, was riding the Q1 bus on Sunday, September 24 when 27-year-old Marquis Evans-Royster, who is black, allegedly approached him and said: "You owe me for making my grandmother a slave."
The homeless and disabled man reportedly remained calm after being accused of the impossible crime  according to the local ABC affiliate.
After his target ignored the charge, Evans-Royster is said to have begun rifling through the 52-year-old's pockets. Eventually, bystanders felt compelled to intervene. This upset the alleged attacker even more.
As fellow passengers cast their lot with the man being assaulted, Evans-Royster apparently charged at them in retaliation. Then he allegedly spit in the homeless man's face and threatened to throw a container full of urine on him.
One of the other passengers on the Q1 bus that day was Desi Cureton, who said, "Who carries around a bottle a urine? If I was the judge, I would send him for mental health evaluation."
At some unknown point, the bus driver said he was going to call the police. This threat apparently prompted Evans-Royster to exit the bus and snap off one of its side-view mirrors. According to the bus driver, Evans-Royster boarded without paying and immediately set himself to complaining about white people, calling them all evil and saying that the two white passengers on the bus when he arrived should die.
Seventy-year-old Tyrone Kenney, who is black and grew up during the Civil Rights Era, had some thoughts on the disturbing incident. He said:
It speaks to the state of the times. People are desperate, they're looking for leadership, they're looking for guidance, but they're not getting it at home, they're not getting it from government. It's a period of time I've never seen before.
Evans-Royster was caught four days later and charged with multiple crimes. Some of those crimes include race/religious harassment, robbery, theft and second-degree assault. In all, he faces up to 30 years in prison for his racially-charged outburst.
[image via screengrab]
Follow Colin Kalmbacher on Twitter: @colinkalmbacher
Have a tip we should know? [email protected]