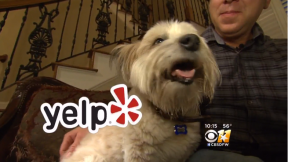 A dog-loving couple from Texas got more than they bargained for after posting a one-star Yelp review for a pet sitting company. Plano residents Robert and Michelle Duchouquette are now facing a lawsuit from Prestigious Pets over a negative Yelp review.
As the couple made plans to travel out of state to Napa, they scoured the popular site, which publishes crowd-sourced reviews of businesses, for a reliable caretaker for their two dogs, Bogie and Barley, and their fish, Gordie.
Prestigious Pets, a Dallas pet boarding service, has a five-star rating on Yelp. Duchouquette said she entrusted the boarding service with her beloved pets based on the company's positive reviews. Five-star ratings are practically social currency; they're rare and they're often diluted by the number of reviews written. However, Prestigious Pets maintained a five-star rating through 57 reviews. That's pretty exceptional service.
Michelle wasn't crazy about some of the company's policies, including the caretaker's refusal to provide her phone number, and billing practices. So, she took to Yelp. The Duchouquettes left what they called a "constructive" review on the company's page. After the owner rebutted their review on Yelp, the Duchouquettes received a cease-and-desist letter. Michelle told KTVT-TV she was "shocked," but it didn't stop there. The couple soon learned Prestigious Pets filed a lawsuit against them, seeking damages in the amount of $6,766.
Prestigious Pets is now suing the Duchouquettes over the "non-disparagement" clause in their service contract, which states, in part, "breach of such clause will result in immeasurable and irreparable harm." Neither the public, nor the law, is unlikely to look kindly upon such language, nor is the law. The non-disparagement language almost certainly infringes on their individual First Amendment rights,  attorney Nicole Williams told the local television.
Interestingly, in 2014, in another state, California passed Assembly Bill 2365, which banned non-disparagement clauses. The bill came after KlearGear, an Internet retailer, charged a customer $3,500 for leaving a negative review. A Utah court struck down KlearGear's lawsuit. However, in Texas, non-disparagement clauses are, at the moment, legal. That may change once a court hears the suit.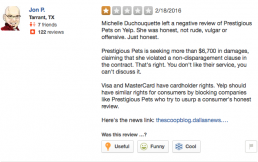 Prestigious Pets is now the recipient of significant backlash, including several negative and one-star yelp reviews referencing the plight of the Duchouquettes.
[h/t and screengrab via TheDallasMorningNews/CBS]
Have a tip we should know? [email protected]