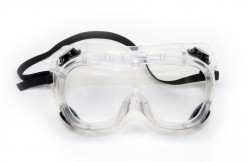 A California state agency will decide how far they'll regulate workplace safety among porn stars. The Division of Occupational Safety and Health is scheduled to vote on new regulations Thursday, in response to a 21-page proposal. This might mean new measures to combat STDs: condoms, safety goggles (chlamydia can be caught via the eye), and dental dams (latex spread across the mouth during oral sex). This really is a serious issue concerning workplace conditions, but porn has a way of becomes contentious when it touches the law.
"If you think about how porn is looking today, and how it's look after February 18th, we're talking about gloves, full body cover and goggles," Eric Leue told NPR. He's the executive director of the Free Speech Coalition, a trade association for workers in the adult entertainment industry. "It's going to turn into surgical porn."
Leue maintains these regulations have less to do with science, and more to do with the stigmatization of sex workers. He insists that over a 100 porn stars will speak out the proposed changes, according to the Associated Press.
The proposal also suggest that producers should be required to pay for adult performers' healthcare costs. Regulations like this is why it is supported by the AIDS Healthcare Foundation.
"The industry had been complaining that the reason they were violating the regulations was because they didn't apply to them," said Adam Cohen, a public health consultant for the nonprofit. "This will put on the book, officially, that the state of California sees adult film employees as deserving of worker health and safety protections."
Cohen promised to go to the Thursday hearing with several former porn stars who say they caught HIV while in the business, according to the AP.
Leue and Cohen, of course, disagree on whether the regulations will also hurt the business if passed. Leue believes it will limit "the expression of sexual freedom" and turn off viewers while Cohen says studios with film with condoms do well financially.
Generally, porn execs say they require STD testing among actors every 14 days, according to the AP. Los Angeles County currently mandates local porn films to feature the use of condoms. No barebacking. If passed, the state-wide regulations would possibly be enforced with visits by state employees. Think about how Health Department inspector will randomly visit restaurants. You know, same thing.
[h/t NPR]
UPDATE 2/19/16 11:50: The proposal was voted down at Thursday's hearing, after a 3-2 vote in favor of the new regulations fell short of the four votes needed for approval.
–
Follow Alberto Luperon on Twitter (@Alberto Luperon)
Have a tip we should know? [email protected]