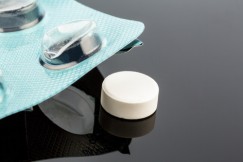 A former Woodbury, New Jersey Board of Education member faces six years in prison after pleading guilty to two counts of distributing a controlled dangerous substance to juveniles, according to the Gloucester County Prosecutor's Office.
Curtis M. Campbell, plead guilty on Wednesday to charges that he gave Ambien, a prescription sleep medicine, to two minors—neither of whom had prescriptions. The 45-year-old resigned from his seat on the town's school board following a 2014 indictment for distribution of a controlled dangerous substance and endangering the welfare of a child and child abuse.
Authorities have not revealed the nature of Campbell's relationship with the youth, other than to acknowledge that the distribution took place during a January 2014 sleepover. The context of the sleepover is not apparent.
Campbell's plea deal means that additional charges from his indictment will be discharged prior to sentencing. Prosecutors have recommended that the former board member serve six years in New Jersey State Prison and have no contact with the two minors involved.
Superior Court Judge Robert P. Becker set a sentencing date for May 27.
[h/t NJ.com]
Have a tip we should know? [email protected]