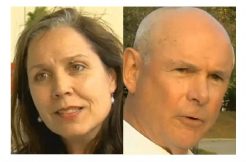 $901.60. That's how much Maggie Cassaro wants from Ken Herrington. She says it's his fault that her car got damaged when she hit and killed his unleashed dog on October 29, 2015.
"I was absolutely astonished," Herrington, a retired Marine Colonel, told WAVE in a Wednesday report. "I was stunned that a lady who killed my dog, that she may not have even known she had killed, would ask me for damages for her vehicle."
Cassaro doesn't dispute that the accident happened, but told the outlet that it's Harrington's fault since the dog, Corporal Dakota Rambo Higgins, was unleashed.
"He's putting that dog in danger every day and I'm just sorry that that happened," she said.
Now they'll face off in Louisville, Kentucky court on Thursday. Cassaro is reportedly the only witness of the incident.
"It's very easy to frame me as the bad person here because I am asking for damages," Cassaro said, but also added that she tried to console the dying dog. She also claimed that Harrington was at fault. "He broke three laws that day. If we don't uphold the laws, then we are going to lose respect in the community."
wave3.com-Louisville News, Weather & Sports
Cassaro's claim does have a legal foothold. A Louisville ordinance makes pet owners liable for any property damage "caused by such animal." But as Harrington points out:
"Puppies and dog don't have to be restrained in their own property yard," he said. "That's a fact." He said he was with Higgins in the yard before the dog ran off after a deer, and that, "You can't stop a hunting dog going 30 miles an hour."
Strictly speaking, he's right about the leash ordinance, and is counter-suing. However, it may be still be a challenge to prove he's not liable for damages to her car since the ordinance requires dogs to be leashed outside of the owner's property, or property where the pup hasn't been explicitly allowed.
[Screengrab via WAVE]
–
Follow Alberto on Twitter (@Alberto Luperon)
Have a tip we should know? [email protected]