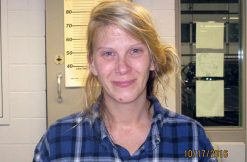 On Monday, Wisconsin woman Christina Ferguson was arrested for disorderly conduct. What happened, according to the Portage County Sheriff's Office? She allegedly smeared peanut butter on vehicles that she thought belonged to Trump supporters. Except it was actually a local conservation club. Verily, the election brings out the best in us all.
According to a criminal complaint obtained by The Stevens Point City Times, it started when Ferguson crashed the club's meeting while holding a can of peanut butter, and yelled at everyone about how much she hated Republican presidential nominee Donald Trump. She left when told to go, but one member got worried, and suggested they check outside to to make sure she wasn't messing with their vehicles.
Prescient! They allegedly discovered Ferguson her smearing a vehicle with peanut butter. All told, she'd smeared 30 vehicles, deputies say. A lot of peanut butter. Actually, it was Jif, the complaint says. Creamy, not crunchy.
Deputies discovered her at her nearby apartment. She reportedly was licking her fingers during questioning (the complaint suggested there was something edible on her fingers), and she denied the incident ever took place. But a club member identified her, and admitted it did, deputies say.
Ferguson allegedly said she "loved" Democratic presidential nominee Hillary Clinton and hated Trump, and that she'd been "terrorized" in the past by Trump supporters.
"Peanut buttering is better than firebombing, and Trump plans on firebombing everybody in other countries," she said, according to deputies.
She reportedly apologized when told the group was actually a conservation club, and said that she was "just fed up about the entire election." You and me both, sister. Deputies say she blew a .218 on a breathalyzer.
We are working to reach Ferguson for comment. According to jail records viewed by Law Newz.com, she was locked up in Portage County Jail, but is now out on bond.
The 2016 U.S. raging Tire Fire presidential election has been a doozy. Projected-runners Clinton and Trump are running a tense race, though Clinton is likely to grab Wisconsin's 10 electoral votes: Recent polls favor her, and the state hasn't gone red since Ronald Reagan took it in 1984.
[mugshot via Portage County and The Stevens Point City Times]
–
Follow Alberto on Twitter (@Alberto Luperon)
Have a tip we should know? [email protected]