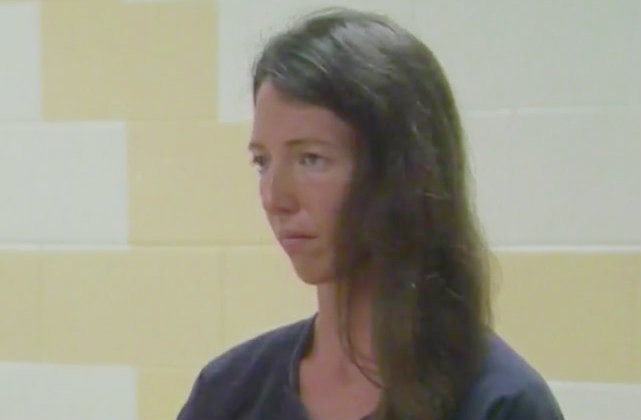 A Florida woman was sentenced Monday for trying to get her ex-husband killed so she could have custody of their children after a bitter divorce. Rachel Leahy will get 20 years behind bars, even though prosecutors had wanted a 22-year prison sentence followed by 3 years of probation.
In early May, Leahy pleaded no contest to criminal solicitation to commit murder.
She was arrested in September. A tipster had warned the Manatee County Sheriff's Office about her plan, authorities said. Investigators then set up a sting using an undercover deputy to play "hitman." Video shown at Monday's hearing showed that she suggested that he could perhaps make her ex David Leahy a sex slave.
Leahy says on video it would be great if he could be kidnapped and turned into sex slave

— John Rogers (@WFLAJohn) June 5, 2017
Leahy- "if he was drown, or I love fire, if he were to be caught in a fire."

— John Rogers (@WFLAJohn) June 5, 2017
Rachael and David Leahy have three children, ages 7, 9, and 11. He claimed on the stand Monday that she put them in zip ties and put them in a closet and garage. The father also voiced concerns about Rachel's other guy friends going after him.
The defense pushed back for a reduced sentence, saying Leahy has suffered from mental illness. They brought a mental health expert to testify that she had multiple conditions, including post-traumatic stress disorder.
— John Rogers (@WFLAJohn) June 5, 2017
Leahy has vivid memories of being force fed and other trauma done by her mother when she was very young

— John Rogers (@WFLAJohn) June 5, 2017
Leahy apologized for the murder plot during Monday's hearing.
Rachael- I am so sorry to my kids, I am so sorry to God, I am sorry to my ex-husband

— John Rogers (@WFLAJohn) June 5, 2017
[Screengrab via WFLA]
Have a tip we should know? [email protected]