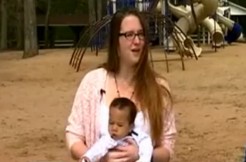 A North Carolina woman says a judge hassled her when she tried breastfeeding her baby in court. Stephanie Rhodus is a 25-year-old mother, and it was time to feed her 8-month-old son as she read a complaint against a family member in court on Monday. (Rhodes is a defendant in a dispute with her mother over the custody of her 8-year-old son.)
"I am fine with having a child [in court]," Judge Peter Knight said in audio obtained by WHNS. "If you don't have other arrangements made, that's certainly going to happen. But to nurse the child in the courtroom is just absolutely inappropriate. Step outside and button up."
He said she could only finish reading her complaint if she covered her breasts.
North Carolina law says moms can breastfeed anywhere they're authorized to be. That includes public locations.
Though she apologized for the feeding at the time, Rhodus later told WHNS that Knight was "extremely condescending, threatening. He was aggressive." She told the Asheville Citizen-Times that she'd breastfed in court the week before, and received no reprimand. Except that time, she faced a female judge.
Knight defended himself in a statement sent to The Washington Post: "We as a court routinely accommodate women who are nursing, including while they are waiting for a case to be called in the courtroom. However, when a case is called and a party is participating in a formal hearing before the court, all litigants are expected to respect the same rules of procedure, decorum and dress."
[screengrab via WHNS]
–
Follow Alberto Luperon on Twitter (@Alberto Luperon)
Have a tip we should know? [email protected]