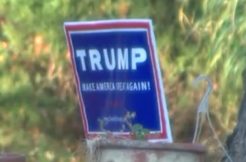 A woman in Kansas City, Kansas says she keeps getting harassed because she's a Trump supporter.
"As we are driving down the street, people honk their horns and shoot the bird," she told KSHB in a Friday report. "And I feel as I am being accosted, and my 15-year-old grandson does not want to ride with me because he says, 'Momma, you're going to get me killed.'"
The 79-year-old spoke to the outlet on the condition of anonymity because of safety concerns. She says her Trump lawn signs keep getting stolen, and that her car was vandalized with what she called an "ugly sticker" calling her racist (she says she's not), and a "vulgar" note that she wouldn't describe except to say it was "not nice to a lady."
She continues to fear for her grandson's safety.
"I now don't want my grandson out on his bicycle for fear that someone will hurt him, saying 'oh, look, there goes that boy that rides in that car," she said. "And this is not drama. This is reality."
The outlet reports she filed a police report.
"We all a right to have a sign in our yard," she said. "We have the right to express our political opinions, and the reason for it."
Americans continue to handle the election like adults struggle over this tense campaign season. Both Trump and Clinton supporters have been trying to stop people from stealing their lawn signs, going as far as to make "traps." One such item was mistaken as a possible bomb. Democracy!
[Screengrab via KSHB]
–
Follow Alberto on Twitter (@Alberto Luperon)
Have a tip we should know? [email protected]