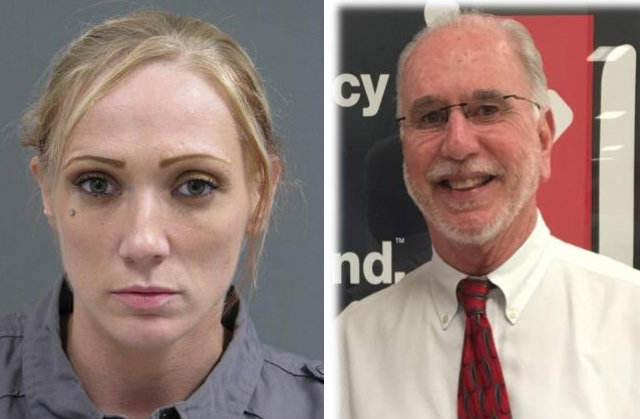 33-year-old Pennsylvania woman Jennifer Lynn Morrissey was charged Friday in the shooting death of a a pharmaceutical executive almost twice her age, the Bucks County District Attorney announced. She used to live with Michael McNew, 64, until he kicked her out, authorities say. The feud culminated when she allegedly shot him in the face on Aug. 6. The victim's body was discovered two days later, still in the house.
According to the probable cause affidavit, police asked Morrissey about McNew. She told cops that she was last at his home July 31. When asked if the victim had problems with anybody, she said "My boyfriend" and ended up crying.
But officials claim evidence punctures wholes in her story. Cell phone records apparently show her phone used cellular towers near McNew's home on the night of the murder. A search of Morrissey's phone revealed deleted text messages showing that she and McNew were arguing that day, investigators claim. Apparently, McNew said Morrissey wasn't allowed in the home anymore, and he would defend himself if she tried to enter. Morrissey sent numerous threatening texts in response, the affidavit states.
"get the gun ready cause I'm coming, I already told you that I'll be there tonight … guess you're just gonna have to shoot me …"
"… I'm gonna stab ya"
"I'll gut you like I'm field dressing a [expletive] deer."
Police say the search of her phone also revealed that it linked up with a wireless router at McNew's home that same night. According to the affidavit, two confidential informants said Morrissey told them she killed the victim after she came to his house, wrenched away a gun he held, and accidentally opened fire. They said she claimed to have returned to the house on Aug. 7 in order to make the killing seem like a robbery, but she gave different versions of that story. In one, she was alone. In another, she was joined by a man. Another confidential informant said the defendant and victim got into an argument in which McNew said he'd give the FBI information about Morrissey's boyfriend. According to a fourth confidential informant, Morrissey talked about a recent burglary and worried about her phone and smart watch placing her at the scene.
The defendant is being held at Bucks County Correctional Facility. Records obtained by Law Newz did not say if she has an attorney. Morrissey faces charges of criminal homicide, burglary, possession of instruments of crime and tampering with or fabricating physical evidence.
McNew's obituary said he worked for the pharmaceutical company AbbVie.
[Images via Bucks County]
Have a tip we should know? [email protected]