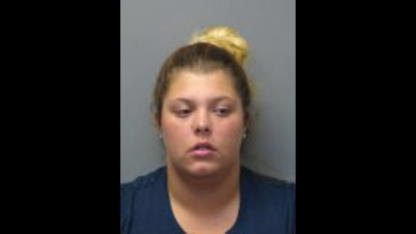 With the average caller, it will take one, maybe two "ignore" buttons for them to get the hint.  Then, there are those of you who take it personally when their call gets rejected by the dreaded "ignore" button.  (You know who you are.)  For some in that category it takes, six to eight "ignore" buttons before they get the hint.  A final category is the crazy ex-girlfriend (or boyfriend) level phone spammer.  Callers of this caliber just won't be denied and certainly won't take a hint.  I've had friends tell me stories of having to take out their cell phone battery just to make it stop.  When they finally get up the nerve to put the battery back in, they almost always find their voicemail box is full.
So, what does this have to do with LawNewz.com?
Well, if police reports are accurate, a 19-year-old Delaware woman may have just set a new phone spammer record, putting her in a category all her own. Kourtney R. Furber, 19, of Felton, was arrested after Milford police say she called a man's cellphone more than 300 times in one day.
According to DelawareOnline, Sgt. Dwight Young said the Milford Police Department received a call from an 18-year-old male who informed police that Ms. Furber just kept calling his phone repeatedly on April 18.  To put this in perspective, "over 300 calls in one day" would require a phone call about every four minutes during a full 24 hour day.  That is some serious dedication, or something.
Ms. Furber is apparently not one who gives up easily, or she had something very important to get off her chest.  According to report, the 18-year-old also told police that she showed up at his place of employment and repeatedly confronting him there.
Ms. Furber was charged with harassment and released after posting $1,000 bond.  There is no word on when she is next scheduled to appear in court.
[image via Milford Police Department]
Have a tip we should know? [email protected]