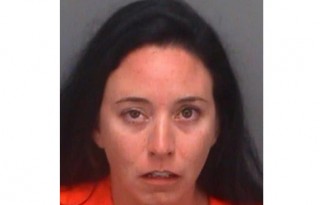 How does the saying go? It's all fun and games until a drunk person pours alcohol in yours eyes? Well, it should be, since that's allegedly what happened to a 7-year-old boy who was playing around by the pool of a Florida hotel. According to WFLA, the child splashed water near Roseanna Marie Kiser, who reportedly wanted no part of the fun.
Police said that, Kiser, 23, was drinking from a bottle of vodka near the pool at the Sheraton Sand Key Hotel in Clearwater, and got mad when water landed near her. She allegedly poured the booze on the head and into the eyes of the boy, and then pushed him into the pool.
Cops charged her with child abuse, and during the arrest she allegedly kicked an officer in the groin. That earned her an additional charge of battery of a law enforcement officer.
Have a tip we should know? [email protected]