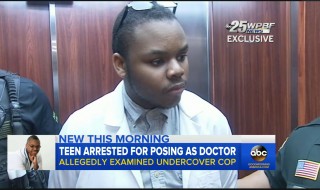 If you've been closely following the case of the teenager who called himself 'Dr. Love" and was arrested for practicing without a medical license and reportedly stealing thousands from an 86-year-old woman, you may not be shocked to learn that this is not the first time Malachi Love-Robinson has allegedly tried to pass himself off as a doctor
According to a new report in the Palm Beach Post, he got started at a very young age. In 2014, the then 16-year-old went from high school to high school claiming to be a doctor looking to join the school's medical staff, according to a police report.
When he was questioned by school police, "he said he knew he was not a medical doctor, believes he is a compulsive liar and is aware he may have [an unspecified medical condition]." That is, according to a police report obtained by the Post. The newspaper says the medical condition was redacted. After the incident, a person, claiming to be Love-Robinson's parent, wrote a letter to school officials apologizing for the incident — but claiming that the 16 year old did have legitimate degrees that could be provided.
"Please forgive me and I ask that you not look down upon [Love-Robinson]."
The email was signed off by "The Parent of Dr. [Malachi Love-Robinson]," according to the Post.
The teen's grandparents, who came to pick him up later,  told school officials he needed to be treated for the undisclosed medical condition.
During a Good Morning America interview, Love-Robinson denied he pretended to be a medical doctor. He insisted he never told people he was an M.D., even though a taped-over sign at his West Palm Beach clinic stated that he was. He claims he only practiced alternative medicine, and had the proper licenses to do so. Love-Robinson stopped the GMA interview short, and stormed off. If you haven't watched it, you should. [See below].
[h/t Palm Beach Post, image via ABC via WPBF]
Have a tip we should know? [email protected]
Rachel Stockman - President / On Air Host