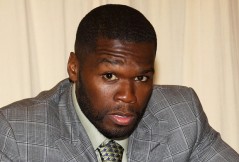 Curtis Jackson, better known as the rapper 50 Cent, has been ordered back to bankruptcy court after flashing hilarious amounts of cash on social media. Like, his stacks approach Scrooge McDuck-levels of dough. The 40-year-old had filed for Chapter 11 protection in July, saying lawsuits were killing him. Now a judge thinks that might be untrue, after his creditors saw his online posts, and filed a complaint in January.
So what made the plaintiffs and the judge suspicious about Jackson? Check this picture from a few months ago. 50 cent might be the richest broke person ever.
Here he is, casually watching TV during a snack.
Why not one more example of his chutzpah? A short film this time.
We weren't kidding about the Scrooge McDuck comparison.
The judge at a Thursday bankruptcy hearing in Hartford Connecticut didn't find this very funny, according to a report by CNNMoney.
"There's a purpose of having a bankruptcy process be transparent, and part of that purpose is to inspire confidence in the process," Judge Ann M. Nevins told Jackson's attorney, James Berman. It was about helping "an honest but unfortunate debtor" find help, she said, but "When that process becomes very public, the need for transparency, I believe, is even higher."
His creditors making the complaint: Sleek Audio, SunTrust Bank, and an ex-girlfriend, Lastonia Leviston, who claim they're owed a combined $29 million. They say he hasn't been upfront with his income, pointing to several concerts he apparently didn't report getting paid for, and a house he's got in actual Africa.
So, yeah, Jackson is going back to bankruptcy court to explain his finance problems again. In a Friday statement, Jackson's attorneys insist he's been completely honest.
"Mr. Jackson has been forthcoming and transparent with all creditors," his attorneys said.
For his part, Jackson claims his creditors, no joke, are violating the 13th Amendment's ban on slavery by making him pay back that all that money.
[h/t CNNMoney]
[image of Jackson via Shutterstock]
–
Follow Alberto Luperon on Twitter (@Alberto Luperon)
Have a tip we should know? [email protected]