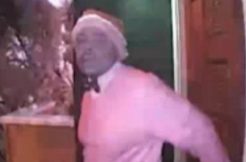 You can tell it's that time of year because a man in a Santa hat allegedly broke into a home. Extra detail: A witness said he was pretending to raise money for charity. Happy holidays, Merry Christmas, et cetera.
San Francisco woman Maria Cabrera told NBC Bay Area that she met the man on Thursday. His choice of headgear eased her initial suspicions, she said. He and a friend were working for a charity. He called himself "Happy Feet."
"He [was] ringing other doorbells at other houses, I said, 'It's OK,'" she said.
Except it wasn't. The unidentified suspect allegedly broke into a neighbor's home—surveillance footage caught him busting in through the front door. We've reached out to the San Francisco Police Department for more information.
"People who are willing to burglarize your home can masquerade as someone you think you can trust," the homeowner, who wants to remain unidentified, said.
[Screengrab via NBC Bay Area]
Have a tip we should know? [email protected]