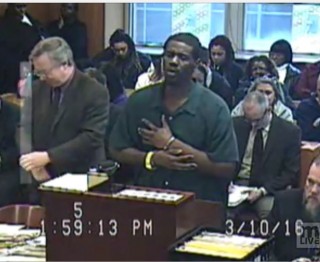 Instead of committing a crime, this convicted felon should have pursued a music career. During a sentencing hearing earlier this month, Brian Earl Taylor apparently took everyone by surprise when he apologized to the judge, his family, and his victim by singing a version of Adele's 'Hello.' The best part is watching the rest of the attorneys try to act like this was just another normal sentencing hearing at the Washtenaw County, Michigan Courthouse. His voice is actually pretty good.
He began: "Hello there, your honor, I want to say I'm sorry for the things I've done and I'll try and be stronger in this life I chose, but I want you to know — that door, I closed." Watch the full rendition below.
Taylor was sentenced two years in prison for illegally carrying a concealed weapon and 18 months to 15 years for unlawful imprisonment, according to MLive Michigan. Five other charges were dropped. The judge told Taylor that he was "obviously a talented young man" and that she hopes he takes advantage of the programs available in prison.
[h/t and screengrab via MLive Michigan]
Have a tip we should know? [email protected]
Rachel Stockman - Editor in Chief / On Air Host