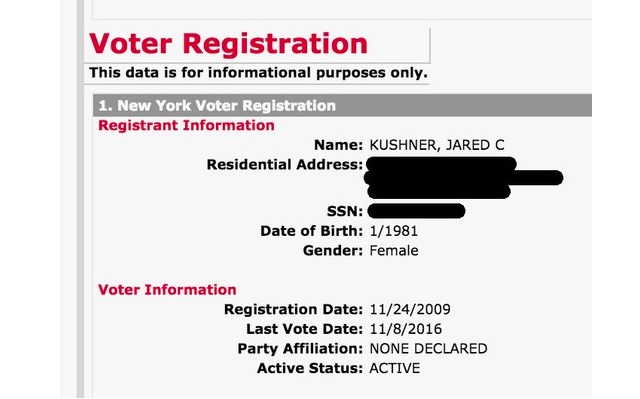 Professional presidential son-in-law Jared Kushner is registered to vote in New York State as a woman.
A native of New Jersey, Kushner originally registered to vote in New York State in 2009. And, unless there's something Kushner isn't telling Ivanka Trump, he flubbed up one of the easiest sections of the registration form when doing so.
This discrepancy was first noted by liberal interest group, American Bridge PAC, an organization which self-professedly, "monitors what Republicans say and fights back when their rhetoric doesn't match their records."
American Bridge PAC spokesman Brad Bainum, said, in a statement:
Kushner can't even fill out the most basic paperwork without screwing it up, so it's a mystery why anyone thinks he's somehow going to bring peace to the Middle East. Would anyone but the president's son-in-law still have a West Wing job after repeated disclosure errors and a botched a security clearance form?
Bain's second quoted sentence above is an apparent reference to Kushner's failure to disclose over 100 foreign contacts when he initially filed his federal disclosure form. His first sentence apparently references Ivanka's husband's expansive role in the Trump administration.
Kushner's official job title is White House Innovations Director–he's been given multiple areas of responsibility in the Trump administration–most famously overseeing the Middle East Peace Process and reforming the government.
He's also been tasked–to varying degrees–with ending America's opioid addiction epidemic, U.S. diplomacy with China (and Mexico), reforming the criminal justice system and reimagining Veterans Affairs.
Let's hope the would-be wunderkind is up to the tasks–which can't be nearly as hard as bubbling in the correct answer on a form.
[image via screengrab]
Follow Colin Kalmbacher on Twitter: @colinkalmbacher
Have a tip we should know? [email protected]