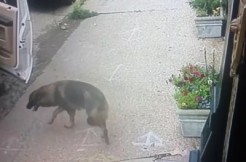 Smash and grabs are simple crimes. The perp maybe takes a hard object, busts open a window, grabs the loot, then bolts. Basic. Few surprises—except in this case.
Suspected burglars in Chicago accidentally saved a German Shepard left in a hot car, according to DNAinfo. It happened Monday, when temperatures peaked to 87 degrees. PETA says that on a 78-degree day, a vehicle interior can shoot up as high as 120. A car can get as hot as 160 degrees on a 90-degree day in only 10 minutes.
You can see surveillance footage, posted to Facebook by building owner Declan Morgan, here:
As seen in the video, a suspect, accompanied by several other men, takes what seems to be a rock, and breaks the passenger side window of a truck, grabbed a laptop, then ran off. They made no sign of having seen the dog in the backseat.
The owner returned an hour later to find the window smashed, the laptop gone, but the dog still alive.
"I truly believe that if they didn't break the window, the dog would have died," Declan Morgan told DNAinfo. He owns the building from which the surveillance footage was taken. "I asked the guy why he left his dog in the car. He said he thought he parked in the shade." The building owner said he put up the cameras because of a high number of break-ins in the area.
"If I would have seen the car, I probably would have smashed," he said.
[Screengrab via Declan Martin]
–
Follow Alberto Luperon on Twitter (@Alberto Luperon)
Have a tip we should know? [email protected]