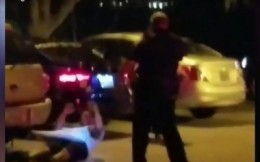 In Tampa, Florida, police tased a Pokemon GO player after he allegedly wouldn't leave a park. It happened Thursday night, according to ABC Action News.
Police told the outlet that neighbors called in about a crowd of over 150 people at Ballast Point Park. Turns out they were playing the popular mobile game, Pokemon Go. Authorities told the crowd they had to leave. It was late. The park had a 10:30pm closing time that night. Pretty much everyone followed the demands except for one man, cops said.
20-year-old David T. Mastrototaro-Baermude allegedly refused to leave. Things got tense.
An Instagram user recorded the incident, and posted it to social media. He's since made his account private, but ABC Action News obtained the footage. Please note that the video features uncensored cursing, and a man getting tased:
A woman could be seen holding back Mastrototaro-Baermude while a police officer told him to leave the park. Mastrototaro-Baermude cursed out the officer, and said something about the officer getting shot. The officer eventually tased him. Mastrototaro-Baermude allegedly pushed the cop, but this moment isn't depicted in the video.
He has been booked on one count of trespassing. This is a first-degree misdemeanor in Florida, though certain circumstances can bump this up to a third-degree felony.
–
Follow Alberto Luperon on Twitter (@Alberto Luperon)
Have a tip we should know? [email protected]