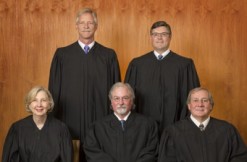 In a 4-1 ruling, the Alaska Supreme Court struck down a law that'd require physicians to notify a pregnant minor's parents about her abortion. In the majority opinion published Friday, Justice Daniel Winfree insisted they weren't making a moral judgement for or against ending pregnancies.
"We are concerned only with whether, given its stated underlying justifications, the current Notification Law complies with the Alaska Constitution's equal protection guarantee — and it does not," he wrote.
He said that the state couldn't justify distinguishing between 1) minors who wanted to carry their pregnancy to term, and 2) minors who wanted to end a pregnancy.
"No facts before us demonstrate that vindicating the State's compelling interest in protecting minors from sexual abuse justifies requiring that parents of minors seeking termination be notified without requiring the same for parents of minors seeking to carry to term," he wrote. "And neither the dissent nor the concurring opinion expressly disputes this conclusion."
Craig F. Stowers, who recently became the Chief Justice of the Alaska Supreme Court, was the only one of the five-judge panel to provide an outright dissent. He wrote that the notification law's "bypass mechanism" already protected the privacy of minors from abusive backgrounds. He said striking down the law was the wrong move, and undermined public and legislative policy decisions.
The 4-1 ruling was more fractured than at first glance, however. Dana Fabe, who recently retired as Chief Justice, wrote the concurring opinion. She agreed with Winfree that the law violated minors' privacy concerns, but didn't buy his analysis on equal protection. She said pregnant minors carrying to term and pregnant minors seeking abortions "face significantly different incentives to delay or avoid medical assistant and significantly different risks from that delay or avoidance."
LawNewz.com obtained a statement from the ACLU. Some of their lawyers represented the plaintiffs, which included Planned Parenthood of the Great Northwest. They said the ruling only helps young women from abusive backgrounds:
The evidence in Alaska shows that most young women seeking an abortion involve a parent. But some young women live in an abusive home, or a home where it would not be safe to disclose a pregnancy. The law would have required a young woman to go through a complicated legal process to persuade a judge to allow her to have an abortion without parental involvement — forcing abortions later in pregnancy, if the young woman could access the procedure at all.
–
Follow Alberto Luperon on Twitter (@Alberto Luperon)
Have a tip we should know? [email protected]