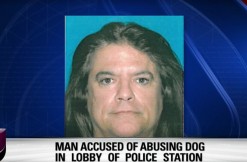 So this happened: A man has been accused of kicking his Chihuahua around, according to cops. Christian Andrew Najera, 48, has been charged with animal cruelty. That's not what makes this story weird, though. Check out the setting: the South Pasadena Police Department in California.
A police records clerk reportedly heard yelling in the front lobby Saturday morning. That's when she looked at a security monitor, and saw Najera leaving with the doggie, cops say.
"The records clerk then saw the suspect return to the lobby where he kicked the dog," police said in a statement reported by Fox LA. Najera is accused of kicking his pet several times, and swinging it in the air by its leash.
No surprise: The clerk and a police dispatcher followed them out the building, cops said. Cue the arrest. Turns out Najera has a long criminal record, according to Fox LA.
The doggie has "undetermined injuries," and is now with the Pasadena Humane Society, according to Fox LA. Meanwhile, Najera was held on $20,000, and is due for a scheduled for a court hearing Tuesday.
[h/t Fox LA]
–
>> Follow Alberto Luperon on Twitter (@Alberto Luperon)
Have a tip we should know? [email protected]