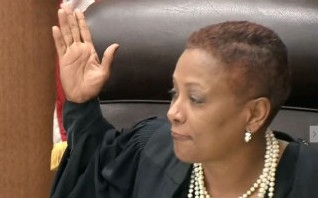 Michigan Judge Vonda Evans went off on the now former Inkster police officer, William Mendez, who was being sentenced for beating up a black man. The judge — visibly upset about what occurred — let Mendez know that he and his cohorts were a bunch of racist cops.  She laid into him for about 20 minutes as court observers watched on. The former cop kept his head down for some of it.
Mendez was sentenced Tuesday morning for his involvement in a police brutality case. He was found guilty of misconduct of office and assault with intent to do bodily harm.
The charges stem from an incident which happened last January when he pulled over 58-year-old Floyd Dent for a minor traffic violation.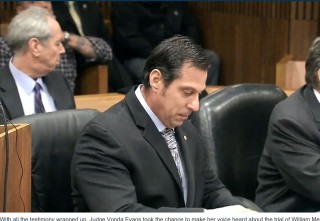 "When your posse arrived, they joined you in the take down, kicking and tasing and ultimately throwing Mr. Dent into a police car with a dash cam .. which I refer to as the eye justice," Judge Evans said.
"You were so into your justice you forgot your eye of justice was watching you, recording this disgusting beating .. seeing Mr. Dent being slammed into the windshield with blood running down his face," she continued. Dent was hit 16 times and suffered severe injuries.
"If we don't invest in our police officers we are going to see more incidences like the one we are presiding over today.. we will pay now, or pay greater later," she remarked.
Here are some highlights from the Judge:
Mendez was sentenced to no less than 13 months and no more than 10 years in prison on the first count, and was given 90 days time served for the second charge, according to FOX 2 in Detroit. The Inkster Police Department paid Dent a $1.4 million settlement.
See Judge Evan's full speech below via Fox 2 (it is worth watching the whole thing!):

[H/T and screengrab via  Fox 2 Detroit WJBT]
Have a tip we should know? [email protected]
Rachel Stockman - President / On Air Host